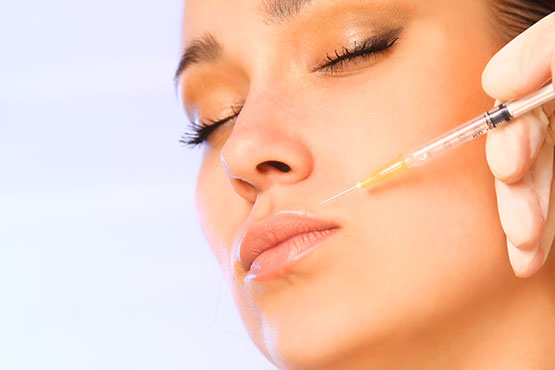 Injectable fillers can plump thin lips, enhance shallow contours, soften facial creases and wrinkles, or improve the appearance of recessed scars.
---
What are the different types of fillers?
Hyaluronic Acid is a natural substance found in our bodies. It is well suited to plump thin lips and fill facial creases such as nasolabial folds. It may also be appropriate for some surface wrinkles and concave scars. The results may last 6 months or longer.
Hydroxylapatite is a mineral-like compound found naturally in human bones, suspended in a gel-like formulation. It is the heaviest of facial fillers and is recommended to fill deeper creases such as nasolabial folds, marionette lines and frown lines, as well as to enhance fullness of the cheeks and other facial contours.
Human fat, harvested from your own body, can be reinjected to enhance facial fullness, fill deep creases and to build up shallow contours. Fat injection requires a more extensive procedure than other injectable fillers because it uses liposuction techniques to extract the fat prior to injection.
---
Important facts about the safety and risks of injectable fillers
The decision to have soft tissue augmentation is extremely personal and you'll have to decide if the benefits will achieve your goals and if the risks and potential complications are acceptable.
Your plastic surgeon and/or staff will explain in detail the risks associated with surgery. You will be asked to sign consent forms to ensure that you fully understand the procedure you will undergo and any risks and potential complications.
---
Complications from fillers are uncommon. Choose a professional
Although tissue augmentation is a quick, in-office procedure that can produce a marked improvement in restoring facial fullness and a more youthful appearance, effective and safe use requires a physician with specialized training and a thorough understanding of facial anatomy to recommend and inject an appropriate filler.
Choosing a plastic surgeon to treat your face with injectable fillers means that your treatment will be performed by someone who not only has training in injection therapy, but in all types of non-surgical and surgical facial rejuvenation.