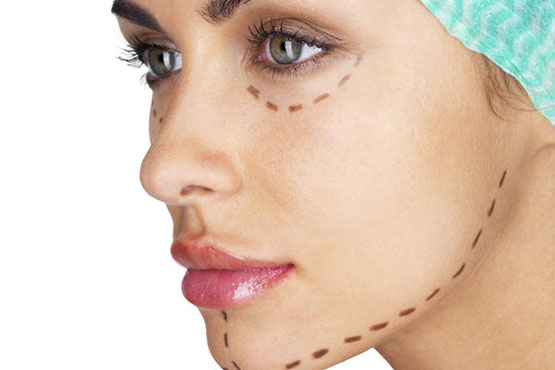 Facial implants are specially formed solid, biocompatible materials designed to enhance or augment the physical structure of your face. The precise type and size of implants best suited for you requires an evaluation of your goals, the features you wish to correct and your surgeon's judgment.
---
Chin implants can increase the size and projection of a chin that does not project in proportion with the forehead and mid-face. A small or recessed chin can also be described as one that seems to disappear into the neck of an individual of normal weight, rather than appearing as a distinct facial feature.
Jaw implants increase the width of the lower third of your face. Much like the chin, a weak jaw can be thought of as one that is not well-defined and distinct from the neck, or one that slopes rather than angles from the ear to the chin. In some cases, both the chin and jaw can contribute to facial imbalance.
Cheek implants increase the projection of the cheekbones. They add volume to areas which may be recessed or flat. If symmetry among facial features is part of your goal, facial implants may be recommended to augment more than one facial region. It's important to remember that all of our faces are asymmetric to some degree and your results may not be completely symmetric. The goal is to create balance and proportion. Your procedure may be performed alone, or as a complement to other facial contouring procedures such as nose or ear surgery.
---
Important facts about the safety and risks of facial implant surgery
The decision to have facial implant surgery is extremely personal and you'll have to decide if the benefits will achieve your goals and if the risks and potential complications are acceptable. Your plastic surgeon and/or staff will explain in detail the risks associated with surgery. You will be asked to sign consent forms to ensure that you fully understand the procedure you will undergo, the alternatives and the most likely risks and potential complications.
Be sure to ask questions: It's very important to ask your plastic surgeon questions about your procedure. It's natural to feel some anxiety, whether it's excitement for your anticipated new look or a bit of preoperative stress. Don't be shy about discussing these feelings with your plastic surgeon.
---
Where will my surgery be performed?
Facial implant surgery may be performed in your plastic surgeon's accredited office-based surgical facility, an ambulatory surgical facility or a hospital. Your plastic surgeon and the assisting staff will fully attend to your comfort and safety.
When your procedure is finished, bandages or dressings may be applied to keep the surgical site clean and to support the position of the implant during initial healing.
You will be given specific instructions that may include: How to care for your face following surgery, medications to apply or take orally to aid healing and reduce the risk of infection, and when to follow-up with your plastic surgeon.
---
You'll need help
If your facial implant surgery is performed on an outpatient basis, be sure to arrange for someone to drive you to and from surgery and to stay with you for at least the first night following surgery.
---
When you go home
If you experience shortness of breath, chest pains or unusual heart beats, seek medical attention immediately. Should any of these complications occur, you may require hospitalization and additional treatment.
---
Be Careful
Following your physician's instructions is key to the success of your surgery. It is important that the surgical incisions are not subjected to excessive force, abrasion or motion during the time of healing. Your doctor will give you specific instructions on how to care for yourself.